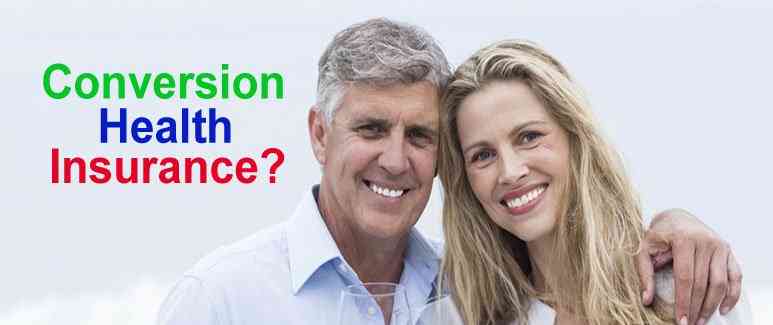 Many of us have had employee benefits coverage at some point in our lives. How nice it is to go for a dental appointment or a vision test without having to shell out any money from our own pockets!
Employee benefits are a great deal for employees, and group insurance plans are also used by employers to attract and keep top talent.
But what options are available to people who have lost their employee benefits due to layoff or retirement?
The answer to that question is simple: conversion health insurance plans.
What is Conversion Health Insurance?
Conversion health insurance plans are a special type of individual health insurance (also referred to as "personal health insurance" or "family health insurance").
Conversion plans are guaranteed issue in nature. There is no underwriting or medical questions involved, and acceptance is guaranteed by the insurance company.
What makes conversion plans special is that they are specifically designed for people who have just lost their group insurance. This is important, since the insurance companies base their monthly premiums on the assumption that these newly unemployed people have been using their benefits and are up-to-date when it comes to their health care (e.g. routine dental and vision care appointments being made, etc.).
In other words, the insurance company is betting that there will not be huge amount of outstanding health issues to take care since the insured person recently had health insurance coverage.
Conversion Health Insurance Eligibility
To be eligible for a conversion health insurance plan you must apply within a set amount of time after losing your employee benefits coverage. For example, here at HealthQuotes.ca we offer Canadians a popular conversion plan called FollowMe from Manulife. To be eligible for a FollowMe health plan you must apply within 60 days of losing your benefits.
As previously mentioned, there are no medical questions and acceptance is guaranteed.
To be eligible you must also be a Canadian citizen and have valid provincial healthcare coverage (e.g. OHIP for Ontario residents, AHCIP for Alberta residents, etc.). Note that it takes up to three months to get provincial healthcare once you have moved to Canada.
What is Covered by Conversion Health Plans?
Conversion health insurance plans offer coverage that is typical of all individual health insurance. Note that coverage amounts offered by individual plans are usually less than those offered by employee benefit plans.
Coverage includes, but is not limited to:
Dental benefits for routine services and major dental procedures (e.g. crowns, bridges, implants, etc.)
Prescription drug coverage
Ambulance transportation services (ground and air)
Vision care coverage for glasses, eye tests, laser eye surgery, etc.
Hospital room benefits (semi-private and private rooms)
Paramedical coverage for registered specialists like psychologists, chiropractors, naturopaths, acupuncturists, massage therapists, osteopaths, physiotherapists and more
Homecare and private nursing costs
Durable medical equipment (e.g. crutches, wheelchairs, oxygen tanks, etc.)
Custom orthotics and hearing aids
Optional multi-trip travel insurance (good for either 15 day or 30 day trips)
Accidental death and dismemberment (also known as AD&D)
How Much Does Conversion Health Insurance Cost?
Generally speaking, conversion plans costs about the same as non-conversion, personal health insurance plans.
Premiums vary between provinces and are also affected by age, the number of people insured, as well as the levels of desired coverage. FollowMe premiums for a single person start at around $70 per month for basic coverage.
You can get free, instant FollowMe health insurance quotes online at our web site if you want more information on pricing.
Conclusion
We hope you found this article about conversion health insurance helpful.
If you have any questions feel free to reach out to us, as licensed Canadian insurance brokers it is our mission to help you out!
---