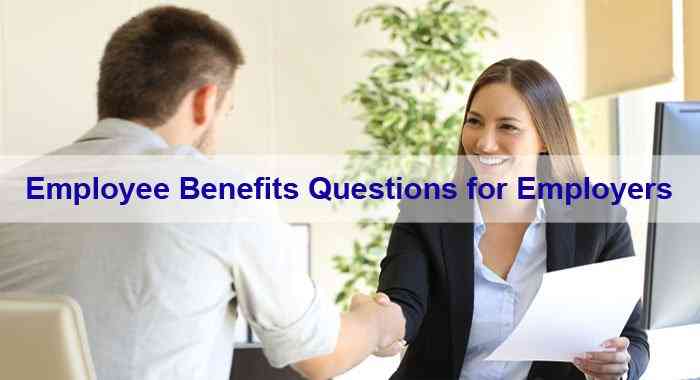 Employee benefits plans sure are great to have. Who wouldn't like coverage for dental, prescription drug and vision care costs? Keep reading to see the Top Employee Benefits Questions to Ask Employers.
Most group insurance plans offer substantial amounts of coverage, and can save an employee thousands of dollars a year. It's no wonder, then, that job applicants often take into account their potential employer's benefits package when deciding on an offer of employment.
But what questions regarding benefits should be asked of the employer? Read on to find out what we (as experienced insurance brokers) think are important questions that should be asked.
Question #1: Does the Company Pay for 100% of Premiums?
While many companies foot the total bill for premiums, this is not always the case. Employers typically cover anywhere from 50% to 100% of premiums, dependent on the group plan they offer employees.
If the employer does not cover 100% of premiums then find out how much the premiums will cost you (premiums are normally deducted from pay). If the company is covering 50% of premiums then single coverage is typically around $100/month, while family coverage is around $200/month. These rates vary, however, depending on the type of employee benefits along with claim histories (the more claims employees make, the higher the premiums will be).
Question #2: Is There a Limited Amount of Coverage?
One type of employee benefits plan is a "Health Spending Account", or HSA. With HSA plans there is a limited amount of money that is allotted for claims on a per-employee basis.
Once an employee has reached their spending limit they are on their own as far as coverage goes, until such time as the spending account is renewed (done on a yearly basis).
Note that employers sometimes choose to go with a Health Spending Account in order to keep their costs down.
Question #3: Is There Disability Insurance Coverage?
Disability insurance is an optional group insurance benefit that offers coverage in case you are too disabled to work. Some employee benefits plans offer DI (disability insurance), while others do not.
Short-term disability is usually good for a period of roughly 10 weeks to a year, while long-term disability is for a longer time period. Short-term DI is usually available only through an employee benefits plan.
No medical underwriting/evidence is required for DI coverage if the Non-Evidence Limit (NEL) has not been reached. The NEL is determined by the amount of DI coverage and size of the company. The more employees that are pooled into coverage, the higher the NEL.
To summarize, ask these DI questions:
Is there disability insurance with the benefits package?
If so, is it short-term and/or long-term DI?
Is medical underwriting necessary to get DI coverage?
Question #4: Is There Vision Care Coverage?
Coverage for vision care costs may or may not be a part of an employee benefits plan.
Vision car consists of things such as frames and lenses for glasses, eye exams at an optometrist, contact lenses and laser eye surgery.
If there is, find out how much coverage you get. Some times the vision care benefits do not cover the total cost of the vision care (especially when getting designer frames).
Question #5: Are There Deductibles and/or Copayments?
Dental benefits and health benefits (e.g. prescription drugs, hospitalization, vision care and paramedical services such as chiropractors and physiotherapists) may be subject to either deductibles and/or copayments.
A deductible is a flat rate that the employee must pay before group insurance coverage kicks in. Deductibles typically range from $0 to $100.
A co-payment is the amount of money paid out by the employee since the benefits coverage is not 100%. Co-payments typically range from 0% to 20%.
Make sure you find out if there are copayments and/or deductibles with the group insurance plan.
Question #6: Can a Spouse/Partner/Children be Added to the Plan?
Most group insurance plans allow for a spouse/partner and children to be added to the plan. However, this is not always the case. Employers can, and sometimes do, limit coverage to employees only.
Question #7: Is There a Benefits Booklet Available?
Oftentimes there is a benefits booklet, which discusses the plan coverage in great detail.
If you are looking for more information about coverage then you may be able to research this at your leisure via the booklet.
Conclusion
We hope you found this article "Top Employee Benefits Questions to Ask Employers" useful.
If you have any questions about employee benefits please feel free to contact us. As experienced Canadian insurance brokers, we are here to help.
---