Common Health Insurance Mistakes to Avoid
By Krista DeKuyper | October 16, 2016 | Health Insurance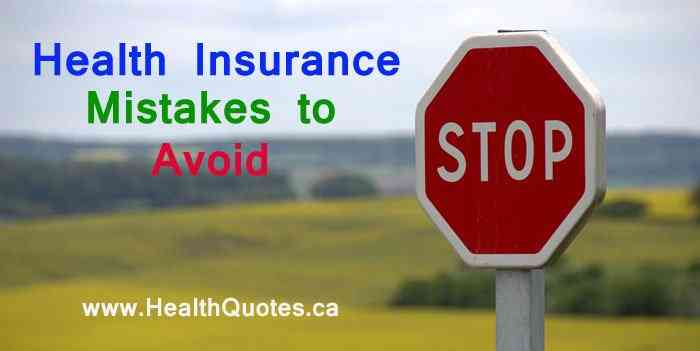 Our brokers at HealthQuotes.ca have been helping Canadians get health insurance coverage for well over 25 years now. As a result we have acquired a wealth of knowledge. All about health insurance and the Canadian healthcare system in general.  Along with this experience comes insight into common health insurance mistakes that Canadians inadvertently make.
Why not learn from our experience and expertise?
We invite you to sit back, take a load off and relax while we share our knowledge and experience with you!
Mistake #1: Delaying Health Insurance Until You Need the Coverage
This is by far the most common health insurance mistakes we see Canadians make.
It is heart breaking when we get a call from a Canadian citizen who is in desperate need of health insurance and cannot get the amount of coverage they need to pay for their illness-related bills.
Why can they not get adequate coverage, you might you ask? Well, imagine that health insurance is like fire insurance for your home. Getting health insurance after you are severely ill is kind of like trying to get fire insurance on your house after the house has burned down!
The truth is that your health, and not your premium dollars, is what gets you high levels of coverage (specially, prescription drug coverage).
There are always guaranteed issue health insurance plans that do not involve answering medical questions available. However, there are limits to the prescription drug coverage offered with these guaranteed issue plans. Higher amounts of prescription drug coverage are available via the medically underwritten plans, which require that you answer numerous medical questions. If there are serious medical problems then the applicant can expect to be either declined for underwritten coverage, or coverage will be made available along with exclusions for all costs resulting from any pre-existing conditions.
If you are healthy and do not have employee benefits coverage via your place of employment then please consider an individual health insurance plan. Some prescription drugs are very expensive, and devastating illness or accident does happen to the young (e.g. millennials) as well as the elderly.
Mistake #2: Assuming All Illness-Related Costs are Covered by Provincial Healthcare
Provincial healthcare programs such as OHIP for Ontario, AHCIP for Alberta and New Brunswick's Medicare do provide substantial amounts of coverage for things like hospital stays and visits to a doctor.
However, these provincial plans usually do not cover prescription drug costs. Depending on your province of residence, there MAY be drug assistance available if you qualify as a low income family or qualify under some other specialty drug program (see Prescription Drugs and Canadian Health Insurance for more information).
In addition, provincial healthcare plans do not cover routine dental services, nor do they cover vision care expenses (note that some provinces do offer some coverage for vision care, depending on your circumstances).
The trend in provincial healthcare plans the last decade or so is a decrease in healthcare coverage. This means that various medical costs that are covered right now may not be covered by your provincial healthcare plan tomorrow.
Mistake #3: Assuming Personal Health Insurance is Similar to Employee Benefits
Many Canadians have enjoyed being covered by an employee benefits plan offered through their employer. You just give your name, address and a few other personal details to your company and voila, you have extensive health insurance coverage!
Canadians who lose their employee benefits and then check out individual health insurance plans are often shocked to find out that they must be medically underwritten in order to qualify for substantial amounts of drug coverage. Why is this the case? Well, employee benefit plans (also known as "group insurance") spread the risk to the insurance company among all the insured employees. In addition the insurance carriers do in-depth, statistical research called "actuarial science" that gives them insight into claims, thereby making it possible for the carrier to accurately forecast how much the employees will claim via their benefit plan.
Personal health insurance plans, on the other hand, are designed for individuals, couple or families. As such, insurance companies must take into account your family's medical histories if you want large amounts of prescription drug coverage.
Please note that there are some personal health insurance plans that pro-rate the insured based on their claims (prorating means that people who make a lot of claims end up paying higher premiums). This should be taken into account when looking for personal health insurance coverage.
Mistake #4: Not Shopping Around for Suitable Health Insurance
When it comes to buying health insurance it is a good idea to shop around. The more research and shopping you do, the better the chances that you get a health insurance plan that's just right for your particular situation.
HealthQuotes.ca has the only individual health insurance quoting engine in Canada. This means that you can compare and contrast numerous health insurance plans from Canada's leading insurance companies.
You are also welcome to call us toll-free and get a free consultation from one of our experienced, licensed Canadians insurance brokers.
Mistake #5: Not Knowing What Your Plan Covers
It is important to know what your health insurance does and does not cover. If you don't know what you are covered for then there is a good chance that you are not claiming eligible expenses. Why leave your money on the table?
The following lists some things that you might be surprised to find out are covered via health insurance plans: *
Travel insurance (annual multi-trip plans, good for an unlimited number of trips of a given duration)
Coverage for paramedicals such as chiropractors, massage therapists, etc.
Durable medical appliances (crutches, walkers, oxygen tanks, diabetic supplies, etc.)
Survivor benefits
AD&D (accidental death and dismemberment): compensation for loss of body parts due to an accident
* Can be a part of core plan coverage or may be offered as an option.
Conclusion
Thank you for taking the time to read this blog article about common health insurance mistakes.
We hope you have learned from our experience!
If you have any questions please don't hesitate to contact us. As licensed Canadian insurance brokers it is our mission to help!
---