Travel Insurance: Are You Really Covered?
By Krista DeKuyper | March 26, 2018 | Travel Insurance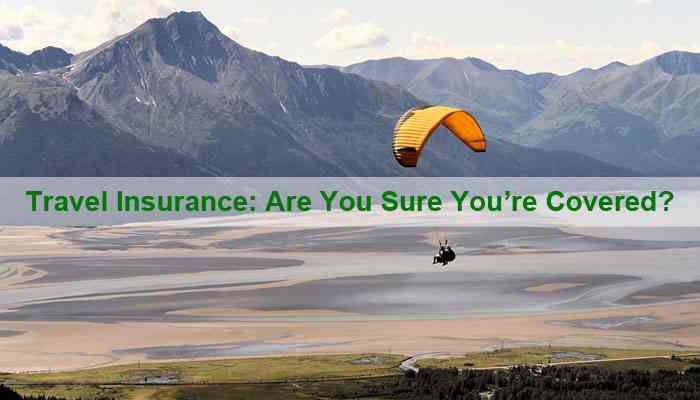 You're excited about a trip you've been planning for months in advance. Your departure is almost upon you, and you realize you've forgotten about one thing: travel insurance.
You hop online, get several quotes and then choose a plan that seems to offer you decent protection against unforeseen medical emergencies.
A week into your travels and bang! An accident happens and you are hospitalized in a foreign country, far from home. Your partner calls up your travel insurance company to find out what you have to do as far as coverage goes, and to your dismay the insurance carrier representative says "we're sorry, but you are not covered for that".
Sounds unlikely? While the odds are that this doesn't happen to you, the fact of the matter is that this can and does happen. The end result can be a massive medical bill: a bill so large that you may even have trouble paying for it, depending on your financial situation.
Why take this chance? A much better option is making sure you have the coverage you need!
The following are things to keep in mind when getting travel insurance. If you are not sure if you are covered then please talk to your insurance agent/broker. It is their job to help you get the coverage that best suits your trip and personal situation.
Hazardous Activities
Standard travel insurance policies do not cover activities that are deemed hazardous to your health.
Insurance companies differ when it come to their definitions of "hazardous activity", however, it is safe to say that all of the following activities will probably not be covered by a typical travel plan:
Bungee jumping.
Parachuting.
Cliff jumping.
Hang gliding.
Rock climbing and mountain climbing.
Scuba diving (might be covered if you are certified, check your plan details).
Skiing (might be covered, check your policy)
Para-sailing.
There are also some more benign activities that MAY not be covered, even though most people would not deem them as hazardous. Some examples of this are:
Watching a motor sports activity.
Cycling.
Hiking.
Deep-sea fishing.
Archery.
There are specialty travel medical plans that will cover hazardous activities. They are commonly referred to as "extreme sports" or "hazardous activities" plans, and their associated premiums are higher when compared to standard plans.
Depending on the carrier and plan, you may also be able to get a rider (e.g. optional coverage) tacked onto a standard plan that covers dangerous activities.
Important: always contact your insurance agent or the insurance company directly to make absolutely sure you are covered for all of the activities you want to undertake when on your trip!
Pregnancy Considerations
Insurance companies regard pregnancy as a medical condition, and as such pregnancy is treated in the same manner as other pre-existing medical conditions.
Travel insurance companies differ when it comes to pregnancy-related conditions. However, generally speaking it is safe to say that:
Newborns are not covered until they are at least 30 days old. If the insured gives birth prematurely while traveling then the hospital expenses associated with that childbirth will not be covered. Case in point: an Australian couple traveling in British Columbia, Canada, ended up with a medical bill of just over $1 million due to premature birthing complications and a lack of medical coverage (even though they had purchased travel insurance).

Pre-natal care, childbirth and potential complications that occur as a result of being pregnant will only be covered up until the 8th or 9th week prior to the expected delivery date.
As a GENERAL rule of thumb, it is a good idea to avoid traveling when pregnant for 7 months or more.
Stability of Medical Conditions
Standard travel insurance plans provide coverage for costs resulting from a pre-existing medical condition IF AND ONLY IF that medical condition is considered "stable" for a given amount of time before the trip's departure date.
Each company has its own definition of "stable", and the required stability period usually ranges from 90 days to 180 days.
And here is the most important piece of advice we can give you regarding existing conditions: a medical condition WILL NOT be considered stabile if the medication you are taking for that condition is either increased OR DECREASED. Strange as it seems, a medical condition will not be considered stable if that condition is improving, resulting in a lower medication dosage.
For more detailed, authoritative information please see our Travel Insurance Coverage for Pre-Existing Conditions InfoDesk article.
Conclusion
We hope you have found this article 'Travel Insurance Are You Really Covered?' helpful in informing you of potential coverage pitfalls.
If you are looking for a travel plan please note that we offer unlimited travel insurance quotes online, free of charge.
If you have any questions regarding travel medical insurance feel free to reach out to us. As nationally licensed insurance brokers it is our mission to help Canadians get the right benefits coverage that best suits their personal situation.
---