Gros Morne National Park, Newfoundland
By Krista DeKuyper | February 23, 2017 | Visitor Destinations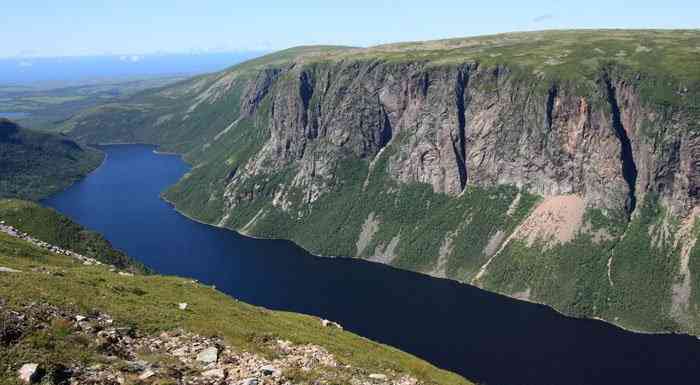 Welcome to this 7th edition of our Popular Visitor to Canada Destinations blog series. Do you seek out beautiful nature scenes when traveling abroad? Are you a nature buff? Do you look for awesome scenery while on vacation? If you answered "yes" to any of these questions then we have a great place for you to consider visiting: gorgeous Gros Morne National Park, a world heritage site located on the shores of western Newfoundland, Canada.
Gros Morne Park has an wide variety of habitats to see, making it a popular Canadian visitor destination. This national park has breathtaking scenery comprised of mountains, fjords, bogs, forests, highlands, and towering gorges that are easily accessible if you`re willing to do a bit of hiking!
Location
Gros Morne National Park is located in western Newfoundland, about mid-way up the province's western shoreline.
The Park has over 50 kilometers of shoreline along the Gulf of St. Lawrence, and extends inland up to 50 kilometers.
Geological Features
Gros Morne Park is one the few places on earth where the planet's mantle rock is actually exposed to view.
For those who need a refresher in geology, the earth is composed of a crust that lies on top of rock called the mantle. The mantle has two distinct layers, and surrounds the core of the earth. Plate tectonic forces called obduction zones result in oceanic material plunging underneath the continental crust. This occurs deep underground, and we usually cannot see these rocks.
In the case of Gros Morne, however, another geological process called uplift (via tectonic forces) has resulted in the exposure of this mantle and oceanic crust material. You can actually walk on and inspect these rare, ultramafic rocks that originated far beneath the surface of the earth!
Gros Morne National Park is also home to the Long Range Mountains, which are a part of the very old and highly eroded Appalachian mountain chain.
Finally, there is the Western Brook Pond fjord. This freshwater fjord was created by the last ice age from 25,000 to 10,000 years ago. Glaciers carved out the fjord, and uplifting caused by plate tectonic forces resulted in the fjord being cut off from the sea. Over time the "pond" was filled in with fresh water.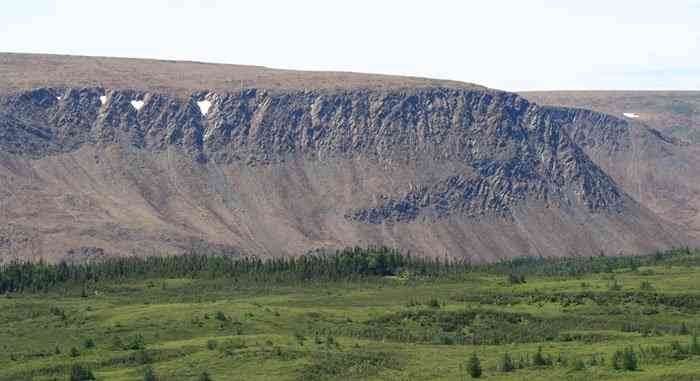 Habitats and Wildlife
Gros Morne National Park has diverse habitats for visitors to see. Just some of these habitats are: 
The St. Lawrence shoreline: in many places visitors can walk the gravelly beaches and shoreline. In some places, there are sand dunes (at Shallow Bay and Western Brook beach).
The Tablelands: a unique habitat due to the exposed mantle and oceanic crustal rocks. Consists mostly of mafic rocks and a few scattered, small plants and shrubs. Desert-like in nature.
Coastal tuckamore: occurs adjacent to the shoreline in many spots. Consists of white spruce and balsam firs that grow in twisted shapes due to the high winds in the area. New growth (e.g. tree buds) only occurs on the protected sides of the trees due to high winds and salt spray from the St. Lawrence river.
Balsam fir forests: there are multiple types of fir forests to see in the Park. The Highland forests occur up in the mountains, and have tops that are "wind pruned". There are also lowland forests, along with "wave forests" that are characterized by a wavy pattern caused by high winds and fungal rot of the roots.
Intertidal salt marshes: these marshes occur along the coast and are formed by the movement of tidal salt water.
Heath barrens: barrens that are comprised of shrubs, Labrador tea, sheep laurel, blueberries and other low-lying vegetation.
Sedge meadows: characterized by peaty soil, lots of sedge (a grassy plant) and small pools of water.
The Lowland Bogs: large bogs in the lowlands consisting of sphagnum moss, lots of water and layers of peat moss.
Just some of the wildlife that you may see when exploring Gros Morne is: 
Moose.
Woodland caribou.
Black bears.
Mink and ermine.
Red fox.
Lynx (rare sightings).
Arctic hares.
Whales and sea ducks along the coast.
Marten.
Access to Gros Morne National Park
Gros Morne National Park can be accessed via the Deer Lake Regional Airport. Deer Lake is a small town that is about 35 kilometers south of the park. Note that there are numerous car rental agencies in Deer Lake.
You can also get to Newfoundland via the ferry that connects Port aux Basque, Newfoundland, to North Sydney, Nova Scotia.
Once you get to Newfoundland take highway 430 along the west coast. This highway runs right through the park.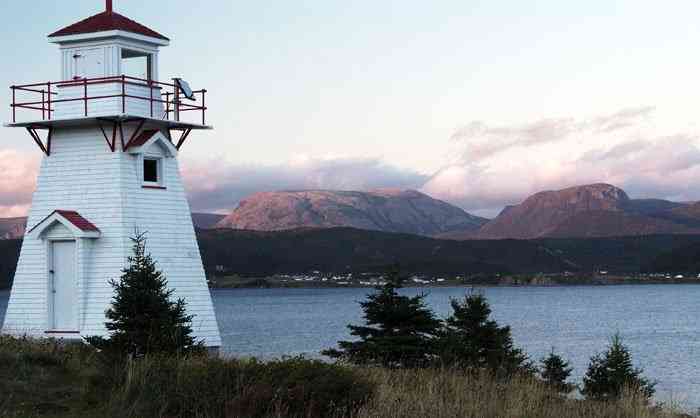 Activities
The following are just some of the activities you can do when in Gros Morne National Park: 
Go on a Western Brook Pond Boat tour in order to check out the fjord. Note: to get to the boats you will have to walk about two kilometers from the parking lot.
Check out the Tablelands that have the exposed mantle rock. You can book a guided tour, or just go out hiking on your own.
Walk to the top of Gros Morne mountain, the highest peak in the immediate area (and the second highest mountain in Newfoundland).
Numerous outdoor activities such as camping, hiking, cycling, kayaking, swimming, etc.
Go fishing via a fishing charter.
Check out the Gros Morne Wildlife Museum or see the Bonne Bay Marine Station that has an aquarium.
Go to one of the local festivals, such as the Cow Head Lobster Festival.
Please note that the Park is almost always windy, so dress accordingly if you are outside.
Lodgings
There are five national park camping grounds situated in Gros Morne. There are also private campgrounds available, click here for more information.
In addition, there are numerous inns, hotels, motels, hostels, cabins and cottage rentals available.
Interesting Facts
The freshwater of the Western Brook Pond fjord is so pure, it has trouble supporting fish life. It has the highest freshness rating possible, and aquatic life in the "pond" is sparse.
It is one of the few places in the world where you can see and walk upon mantle and oceanic crustal rock formed far beneath the surface of the earth.
Gros Morne Park is the second largest national park in eastern Atlantic Canada.
Conclusion
We hope you enjoyed this blog article about Gros Morne National Park in Newfoundland/Labrador, Canada.
Gros Morne is a great place to visit when coming to Canada. Unique geology, geography and wild life all add to this park's rugged appeal.
When visiting Canada make sure you are covered for unexpected medical emergencies. You are welcome to get as many online visitor to Canada insurance quotes as you like, free of charge!
Sources: 
---