Manulife Announces New Guaranteed Issue Enhanced Health Insurance Plan
By Krista DeKuyper | January 31, 2022 | Guaranteed Issue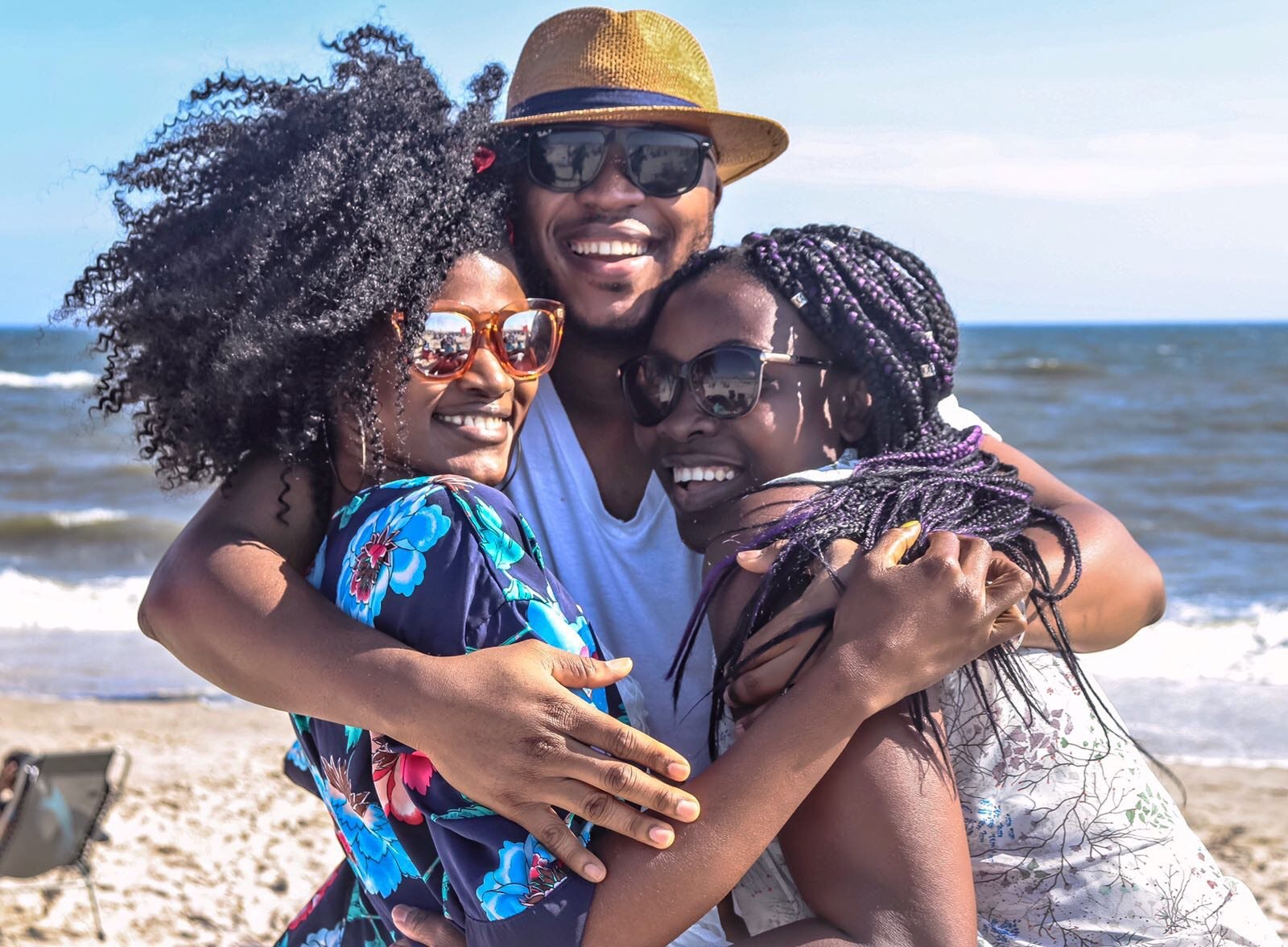 After months of being in the development stages, Manulife has announced a new addition to its plan offerings. The Guaranteed Issue Enhanced Plan. As the world is ever-changing, so is the insurance industry. The need for guaranteed issue plans is increasing, yet insurance carriers are reducing and or removing such plans from their "store fronts". Manulife continues to be a leader in the industry and sees the value in such plans.
The new Manulife Guaranteed Issue Enhanced health insurance plan is a great fit to bridge the "gap" between the ComboPlus Starter™ and the FollowMe™ products suites.
What is the Manulife Guaranteed Issue Enhanced health insurance plan?
Although its name sounds very boring the plan design is more creative! It's your standard guaranteed issue plan which means you don't have to answer any medical questions when you apply. Even if you have a pre-existing condition.
Some Key Highlights
Highest drug maximum offered on any guaranteed issue no entry requirement plan in Canada
Lifestyle drugs included within the schedule of benefits
NO APPLICATION nor SIGNATURES required (currently there is no application, this may change)
May be coordinated with other insurance benefits such as group.
Add-ons, including vitality are NOT available.
Will experience rate increases as like FlexCare and FollowMe product suites.
Manulife Guaranteed Issue Plan Details
Drugs
This brand new plan has the highest drug maximum offered on any guaranteed issue plan with maximum coverage of $2500. PLUS included in the $2500 is $500 maximum in paid expenses per year in birth control, flash glucose sensors, oral erectile dysfunction drugs, medical marijuana, anti-obesity drugs and more. Something that is relatively new in the health insurance industry.
Dental
A plan maximum of $450 in paid expenses. Reimbursement on exams, cleanings, fillings, scaling, polishing and other basic dental services plus extensive services such as oral surgery and endodontics
Vision
a plan maximum of $200 per 2 consecutive benefit years to cover the costs of prescription glasses (with a 3 month waiting period). Plus a plan max of $60 every 2 benefit years for optometrist fees
Hospital Expenses
Up to $50 per day to a maximum of $1000 every 2 years to cover your out-of-pocket expenses during a hospital stay. Coverage ceases at age 70, where there will be a deductible of $200 per claim. You'll also be covered for In-Canada medical travel.
Travel
You'll be covered for emergency medical travel outside of Canada. $5,000,000 per person, with a maximum 10 days per trip, an unlimited number of trips.
Extended Benefits
As with most other health plans you'll also be covered if you're looking to go to registered specialists and therapists, mental health and therapy, medical equipment, diagnostic services, orthotics etc.
To get the full plan breakdown click here: Manulife Health Details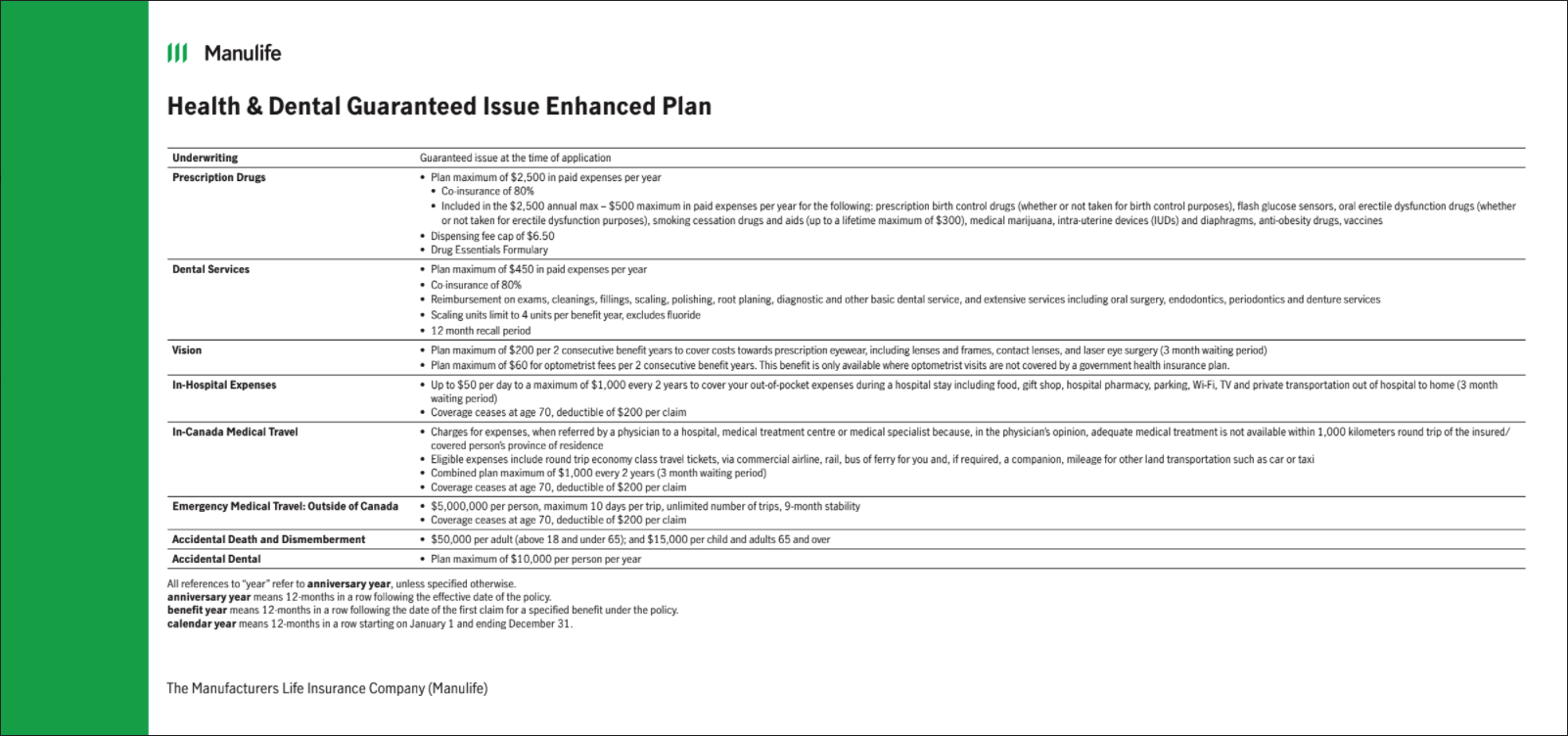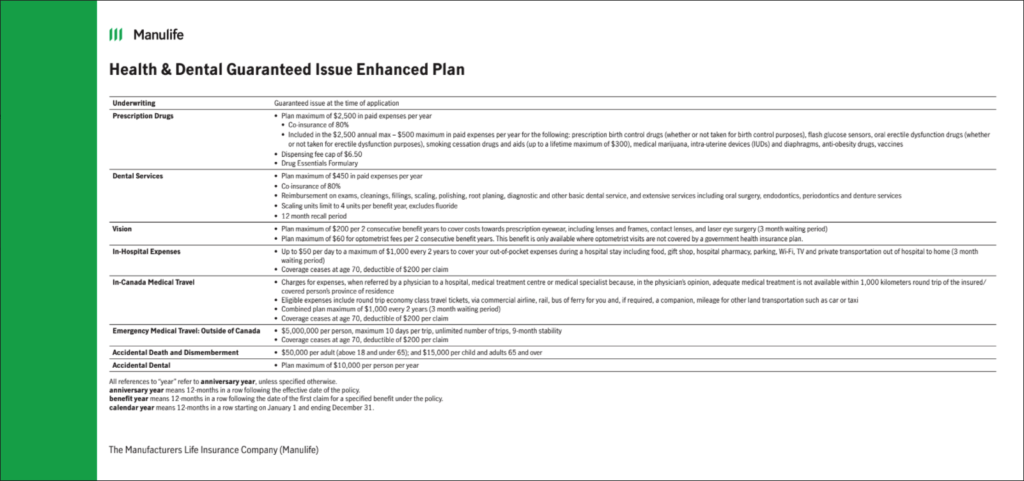 Eligibility Requirements
To be eligible for the Manulife Guaranteed Issue plan you must meet all of the following requirements
be a resident of Canada
be at least 18 years of age on the date of application, except for children of an insured person
be covered under your provincial or territorial health insurance plan and
Quebec residents must also be registered under the Regie de l'asssurance maladie du Quebec (RAMQ) Prescription Drug Insurance Plan or have equivalent coverage under a group plan.
A Health Insurance Plan That Covers Medical Marijuana
Something that more health insurance companies are rolling out is the coverage of medical marijuana. The Manulife Guaranteed Issue plan is one of those plans that has included medical marijuana in its schedule of benefits.
Plus you can also get coverage for lifestyle drugs, birth control drugs and glucose monitors.
The Manulife Guaranteed Issue Enhanced health insurance plan offers increased benefits and broader protection than other guaranteed issue plans available in Canada. The plan is designed to provide enhanced coverage for policyholders and includes a number of features that are not typically found in other guaranteed issue plans.
If you're looking to get an instant quote for Manulife Guaranteed Issue Plan please contact us!
---