Location
The Bay of Fundy is located in eastern Canada along the Atlantic coast, with shoreline along the provinces of New Brunswick and Nova Scotia (as well as a small portion along the state of Maine, USA).
The bay is quite large, and is approximately 270 km (170 miles) long and 105 km (65 miles) wide.
Of particular personal interest are the small bays off of the main Bay of Fundy itself. It is quite an experience to see the water completely drain out of these smaller bays, just to come rushing back in at high tide!
For a Google map of the Bay of Fundy please click here.
Tidal Description
Every day the Bay of Fundy has 160 billion metric tonnes flow into and out of it. That's a massive amount of water movement!
There are two high tides and two low tides per day, with roughly 6 hours in between low and high tidal periods. High and low tide times increase about 1 hour per day. In other words, if there is a high tide around 3 PM Monday, then Tuesday will see a high tide around 4 PM, Wednesday will have a high tide at 5 PM ,etc.
Tidal range measures the difference between high and low tides, and on average the Bay of Fundy has a tidal range of 50 feet. In fact, the Bay of Fundy competes with the Leaf basin in Ungava Bay, northern Canada, for bragging rights to the highest tidal range in the world.
Note that tides result in more than just vertical water movement. Tides also result in:
Possible tidal bore, where water actually flows back up the rivers that drain into the bay.
Tidal rip tides, which are very dangerous when swimming since they can pull you out and away from shore.
Rapids and whirlpools.
To see these tides in action online (via animation) please click here.
Where to See the Tidal Action
Visitors can see the vertical tidal movement along any coastline of the Bay of Fundy.
However, the degree of vertical movement is especially apparent at wharves and docks where boats are anchored. At low tides boats can actually end up resting on the bottom of the bay!
Consider the following places to get a great view of these huge tides1:
Alma, New Brunswick
Petticodiac River, Moncton, New Brunswick
Hopewell Cape, New Brunswick
St Martins, New Brunswick
Chocolate River, Hillsborough, New Brunswick
Hall's Harbour, Nova Scotia
Advocate Harbour, Nova Scotia
Hantsport, Nova Scotia
Digby, Nova Scotia
Margaretsville, Nova Scotia
Advocate Harbour, Nova Scotia
Parrsboro, Nova Scotia
For anyone interested in seeing tidal bore (water flowing upstream) consider the following locations:
The Maccan River, near Amherst, Nova Scotia.
Truro, Nova Scotia.
South Maitland, Nova Scotia.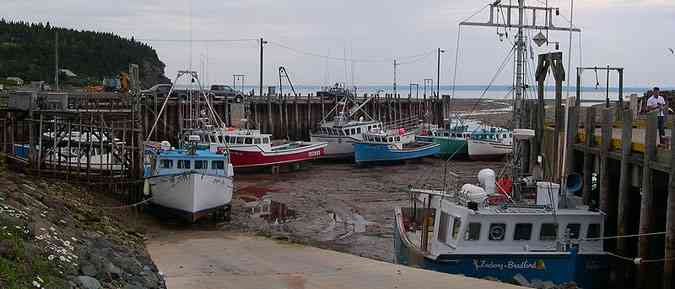 Interesting Facts
The Minis Basin in the Bay of Fundy boasts some of the highest tides in the world, with a maximum tidal range of 53.5 feet.
"Old Sow Whirlpool", situated near Deer Island, New Brunswick, is the largest whirlpool in the western hemisphere.
Bay of Fundy is home to 12 different species of whales, and is one of the best places in the world to go whale watching.
The marine diversity of the bay's ecosystem is comparable to the biodiversity of the Amazon Rainforest.
Activities
The following are just some of the activities you can do along the Bay of Fundy:
Tide watching and going out onto the flats at low tide (please wear rubber boots to protect your feet).
Whale and seabird cruises (up to 12 species of whales including humpbacks, finbacks and minke whales).
Fishing (shoreline or charters). Common fish species found in the bay are striped sea bass, various sharks, cod, halibut, tuna and pollock.
Hiking or cycling along the trails that run along the coast with a view of the bay.
Water adventures such as white water rafting and kayaking.
Visit one of the many historical sites and museums.
Conclusion
We hope you enjoyed this blog article about the Bay of Fundy.
The scenery found in the Canadian Maritime is spectacular, and the Bay of Fundy is just one more reason to visit beautiful eastern Canada!
If you are visiting Canada please make sure you protect yourself from unforeseen medical emergencies via Visitor to Canada insurance.
---