Popular Visitor Destinations: Cabot Trail, Cape Breton Island
By Krista DeKuyper | October 21, 2015 | Visitor Destinations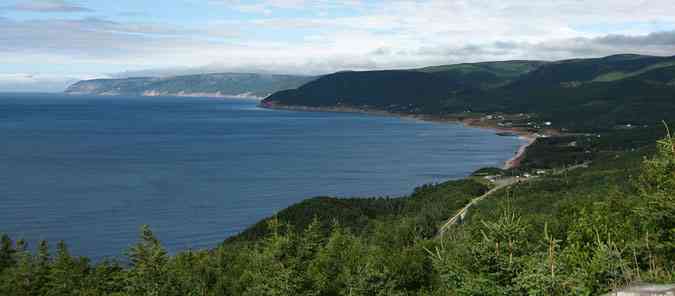 Welcome to this sixth article of our "Popular Visitor to Canada Destinations" series. This time we are going to travel around the Cabot Trail, Cape Breton Island, Nova Scotia.
Location and Description
The Cabot Trail is situated in beautiful Cape Breton Island, Nova Scotia.
The trail is a 297 km (185 miles) long scenic road that loops around the entire perimeter of the island, with the exception of the northern part which cuts across the Cape Breton Highlands National Park.
The trail consists of a paved asphalt road (that can be driven in about 8 hours, allowing for a few pit stops along the way), along with adjacent nature trails that many people love to hike.
The scenery along the Cabot Trail is breathtaking, and it is this scenery that is the trail's main attraction. On the one side you have a great view of the ocean along with some steep cliff faces. Combine this with the rugged beauty of Cape Breton Highlands National Park, add in some awesome wildlife, and you have the makings of a great visitor destination!
There are also several quaint towns situated along the trail that offer various activities along with restaurants that boast some very fresh, tasty seafood dishes.

Cabot Trail Access
Cape Breton Island can be accessed by land, sea or air.
To get to the island by land you can take the Canso Causeway, a mile-long road that links mainland Nova Scotia to the island.
You can also get to the island by air via the Sydney Airport and by ferry from various departure points.
Once you get to Cape Breton Island you must choose from one of many Cabot Trail access points. Remember that the Cabot Trail is a loop trail, which gives you lots of access options.
Traveling Options
You can see the Cabot Trail using various modes of transportation.
Many people choose to drive the trail. It is only 297 km long, so technically it can be driven in 5 or 6 hours. However, you really want to leave time for pulling over and soaking in the scenery.
Note that motorcycling around this trail is especially amazing. In fact, in 2014 USA Today's Reader's Choice for the Best Motorcycle Trip was awarded to the Cabot Trail.
You also have the option of hiking into the Cape Breton Highlands National Park. In addition there is a hiking trail that for the most part runs adjacent to the loop road. You can also check out the scenery by boat (either your own or a charter).
A great idea to consider is driving around the trail in a few days, which leaves lots of time for checking out the shoreline, going fishing, whale watching, inland hiking or whatever else strikes your fancy.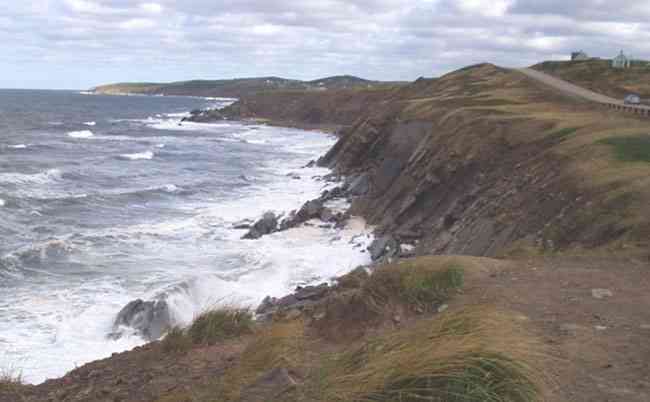 Activities
First to be mentioned has to be the scenic drives. Tour the Cabot Trail by vehicle and take your time. Note that the majority of people travel clockwise, driving on the inside lane with the ocean view to the left. People that choose to travel in a counter-clockwise direction will have a better view of the ocean, although this also means a better view of the steep cliff drop-offs! (If you have a strong fear of heights please choose the clockwise direction)
Hiking along one of the many Cape Breton Highlands National Park trails.
Whale watching tours. Commonly seen whales are humpback, right, pilot and blue whales (the largest whales in the world). Note that some tours also offer hydrophones so you can listen in on the whales!
Wildlife and bird watching. Wildlife and birdlife is abundant, and includes moose, black bear, bald eagles and even whales.
Various festivals (e.g. music, fiddling and Celtic festivals).
Eating seafood! If you like seafood then you will have a hard time leaving the Cabot Trail and its numerous restaurants that have seafood that is as fresh as it gets!
Canoeing and kayaking along the shoreline.
Golfing and horseback riding.
Fishing (including salmon and trout).
Fantastic cross-country skiing and snowmobiling in the winter time.
Lodgings
There are all sorts and types of accommodations available on the Cabot Trail.
With are numerous ocean campground sites for people who feel like roughing it.
The destination has many bed and breakfasts, inns and lodges for people who want the comfort of a cozy bed.
In addition there are 5-star resort suites for those who want the extra comforts in life.
Conclusion
We hope you enjoyed this blog article about the Cabot Trail. The scenery along this Cape Breton Island trail is incredible, and there are so many interesting things for travelers to do and see.
If you plan on coming to Canada to see the Cabot Trail make sure you have visitor to Canada insurance protection.
Thanks for reading, and we will see you somewhere down the trail!
---