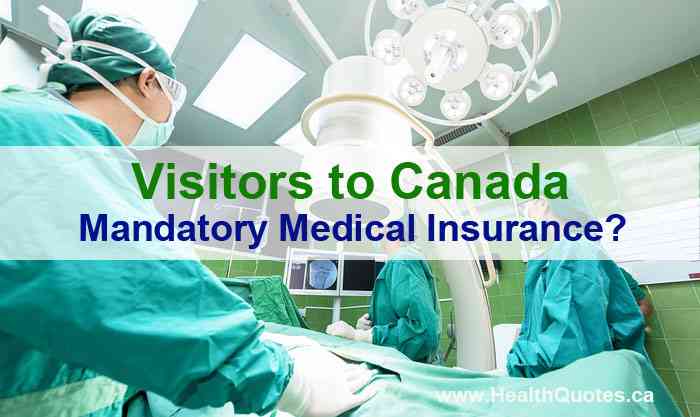 Canada is the second largest country in the world, and as such there are an abundance of places to visit and see. You may be wondering, is there mandatory medical insurance when visiting Canada?
Out west there is world-class skiing in the beautiful Rocky Mountains of Whistler, British Columbia. Ontario is home to Niagara Falls, a very popular tourist destination. Or you might want to check out the Bay of Fundy out east, home to the world's largest tides where bays completely drain at low tide.
Every year millions of people from all over the world visit Canada. According to Statistics Canada, in 2017 there were over 20.8 million trips to Canada that lasted one or more nights, a new visitor to Canada record!
But what happens if a visitor to Canada who does not have medical insurance gets sick or injured and needs medical treatment? Is it even possible to get into Canada without some form of medical insurance?
Let's read on and find out.
Is Medical Insurance Required When Visiting Canada?
Technically, only people coming into Canada under a "super visa" must prove they have medical insurance before entering the country. (A super visa is a special, long-term visitor visa, click here for more).
People coming to Canada who are not on a super visa MAY still have to provide proof of medical insurance, however. This is rather subjective, though, and depends on the type of visit (e.g. foreign worker, student, expats, etc.) as well as the Canadian immigration officer who is processing a visitor's visa. In fact, we do get phone calls from people who are stuck at a Canadian airport because they don't have medical insurance and are being denied entry to the country because of that.
It is also possible for a Canadian resident to sponsor a relative (e.g. spouse, partner, parent, dependents, etc.) to come to Canada. The person coming to Canada may get away with not having medical insurance, however, the person who sponsors that relative would then be responsible for that person's medical bills if there is an unforeseen accident or illness that requires medical treatment. Once again, Canada Immigration MAY determine that medical insurance is necessary if the sponsor cannot show that they have the financial means to cover those expenses if need be. In addition. hospitals and other medical facilities have the legal right to collect unpaid medical expenses from the person who sponsors a relative.
Do Visitors Have Access to the "Free" Canadian Healthcare System?
For starters, the Canadian healthcare system is not free. It is paid for via lots of taxes levied on Canadian citizens at a variety of levels (e.g. provincial taxes, federal taxes, etc.). For more information see The True Cost of Canadian Healthcare.
In addition, only Canadian citizens and permanent residents are eligible for Canadian healthcare. Temporary visitors do not qualify for Canadian healthcare.
Even Canadian citizens who have been gone for an extended period of time must wait for 3 months before they can apply for healthcare.
How Much does a Stay in a Canadian Hospital Cost?
The misconception that the Canadian healthcare system is "free" sometimes leads people to think that Canadian hospital costs are relatively low.
This is just not the reality of the situation, however. In fact, a visit to a Canadian hospital can cost almost as much as the same visit to a hospital in the United States!
According to the Canadian Institute for Health Information1, in 2017 the average cost of a hospital visit ranged anywhere from $5,500 to $8,100 (CDN).
As a general rule of thumb, a stay in a Canadian hospital costs around $4,500 per day, depending on the type of treatment required as well as the province where the hospital is located.
There are also more extreme examples. Case in point, an Australian couple ended up owing over $1 million in hospital bills due to a premature baby that ended up being in the Vancouver hospital's neonatal intensive care for over 3 months.2
Travel Medical Insurance or Visitor to Canada Insurance?
People who come to Canada without any form of medical insurance take their chances. This can be a costly mistake on the part of the visitor. In addition, the Canadian tax payer will probably end up shouldering at least some of the financial costs if that visitor cannot afford to pay their whopping hospital bill. Hardly fair to Canadians!
Visitors to Canada can protect themselves from costs resulting from accident or illness by purchasing either travel medical insurance from their country of origin or by purchasing a visitor to Canada insurance plan from a Canadian insurance carrier.
Both of these plans are forms of medical insurance.
It is important to know that medical insurance IS NOT health insurance. Medical insurance offers coverage for costs resulting from treatments that are medically necessary only. Typical health insurance plans cover these costs AS WELL AS routine dental services, prescription drug costs, and paramedical services such as chiropractors, physiotherapy, etc.
On a final note, there are several distinct advantages to getting visitor to Canada insurance as opposed to a travel medical plan from the visitor's country of origin. For starters, visitor insurance plans are designed by Canadian insurance companies, and as such they leverage the relationship that the insurers have with the Canadian medical community. As a result, with most visitor plans and hospitals you do not even have to pay for costs up front. For more information see Why Purchase Canadian VTC Insurance?
Conclusion
We strongly urge all visitors to Canada to get emergency medical insurance, regardless of whether or not it is mandatory in order to enter Canada.
Hospital costs in Canada are expensive. Why take a chance getting stuck with a huge medical bill?
---