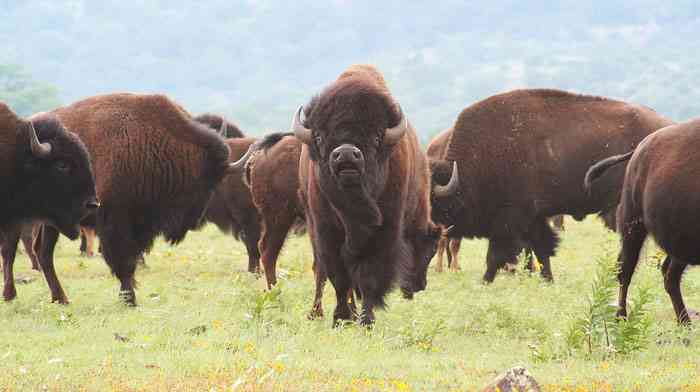 Welcome to the next article of our "Popular Visitor to Canada Destinations" blog series. Today we are going to Prince Albert National Park, located in the prairie province of Saskatchewan, Canada.
Prince Albert park is a popular Canadian national park, and was named one of Canada's "50 Places of a Lifetime" by National Geographic.
Would you like to see a free-ranging herd of bison wandering the southern plains? How about enjoying outdoor activities such as hiking, fishing or backcountry camping in a pristine nature setting?
If you enjoy nature you will love visiting Saskatchewan's Prince Albert National Park!
Location and Geography
Prince Albert National Park is located in central Saskatchewan, Canada. The park is 3,874 km2 in size and is a couple of hundred kilometers north of Saskatoon.
The park is situated at the southern end of Canada's boreal forest, and consists predominantly of coniferous trees and rolling landscapes. The exception to this is at the very southern part of the park, where there are aspen forests as well as wide-open fescue grasslands (where the bison roam).
The park contains numerous lakes, with the three largest lakes being Waskesiu, Kingsmere and Crean. The water is exceptionally clean, with very healthy fish populations.
There are also numerous rivers in the park that connect the lakes, making the region ideal for waterfowl migration as well as exploration by canoe or small boat.
For a Google map of Prince Albert National Park please click here.
Park Wildlife to See
The biggest draw for visitors is the diverse and abundant wildlife found within the park. The following lists just some of the wild creatures you can see in their natural habitats:
The grasslands in the south-west of the park is home to the only free-ranging herd of bison to be found in Canada. At one point these plains bison were near extinction, but through careful conservation efforts the herd now boasts over 200 bison.
Moose, white-tailed deer and elk.
Foxes, timber wolves and western coyotes.
River otters and beavers.
Black bears and badgers.
Waterfowl such as ducks and loons.
Birds of prey (e.g. osprey and bald eagles).
A huge variety of other birds like woodpeckers, herons, nuthatches, etc.
Prince Albert National Park Activities
Wildlife and bird watching. Note that some of the best wildlife action actually occurs in the winter, when it is easier to spot wolf packs, deer, elk, etc.
Watersports in one of the numerous lakes and rivers. Canoeing, kayaking, swimming, or paddle boarding are possible (as are boating rentals).
Hiking along one of the many trails. Go for a short hike or spend all day off the beaten path.
Horseback riding (you may even see the plains bison on the back of a horse)!
Camping (including backcountry camping for the stout of heart).
Ziplining at the Elk Ridge Eco Adventures facility.
Scenic driving tours.
Golfing.
Fishing for northern pike, lake trout, perch, whitefish and pickerel.
Wagon rides.
Aurora borealis (northern lights) watching.
Visit the cabin of the world (in)famous conservationist, Grey Owl (after Grey Owl died it was discovered he was British born and not a native Canadian).
How to Get to Prince Albert National Park
The park can be accessed by vehicle via Highways #2 and #264, roughly 90 km (56 miles) north of the city of Prince Albert.
The nearest airport is the John Diefenbaker Airport in Saskatoon, which is a 2 1/2 hour drive south of the park. There are lots of vehicle rental places once you get into Saskatoon.
For a detailed map click here.
Lodgings in the Park
Camping is a common form of park lodging. There are many vehicle-accessible campgrounds available, ranging from simple lake-side campgrounds to full service RV grounds.
For the more adventurous of heart there is also "backcountry" camping, where the campground is accessible by hiking or boating only.
If you are not a big fan of roughing it in a tent then you can also camp in one of the "oTENTik" cabins (basically an A-frame cabin that has rudimentary furniture on a raised floor).
Don't want to camp out? Not a problem, there are lodges, resorts, and inns that offer you all the amenities of home.
Emergency Medical Insurance
If you decide to do some outdoor exploring in Prince Albert National Park then please make sure you have emergency medical insurance coverage.
Hospital stays here in Canada are very costly, and even a short visit can cost you thousands of dollars.
Visitor to Canada insurance is the best type of emergency medical coverage you can get due to the multiple advantages it has over a typical travel insurance policy that is purchased from a non-Canadian insurance carrier.
Conclusion
We hope you enjoyed this blog article about Prince Albert National Park. If you enjoy the great outdoors then this is a park you should check out when visiting Canada!
If you have any questions about medical insurance when visiting Canada please contact us. We are experienced, licensed Canadian insurance brokers, and it is our mission to help you get the insurance coverage that is just right for you.
---