Everything You Need To Know About Manulife Vitality
By Krista DeKuyper | March 16, 2021 | Health Insurance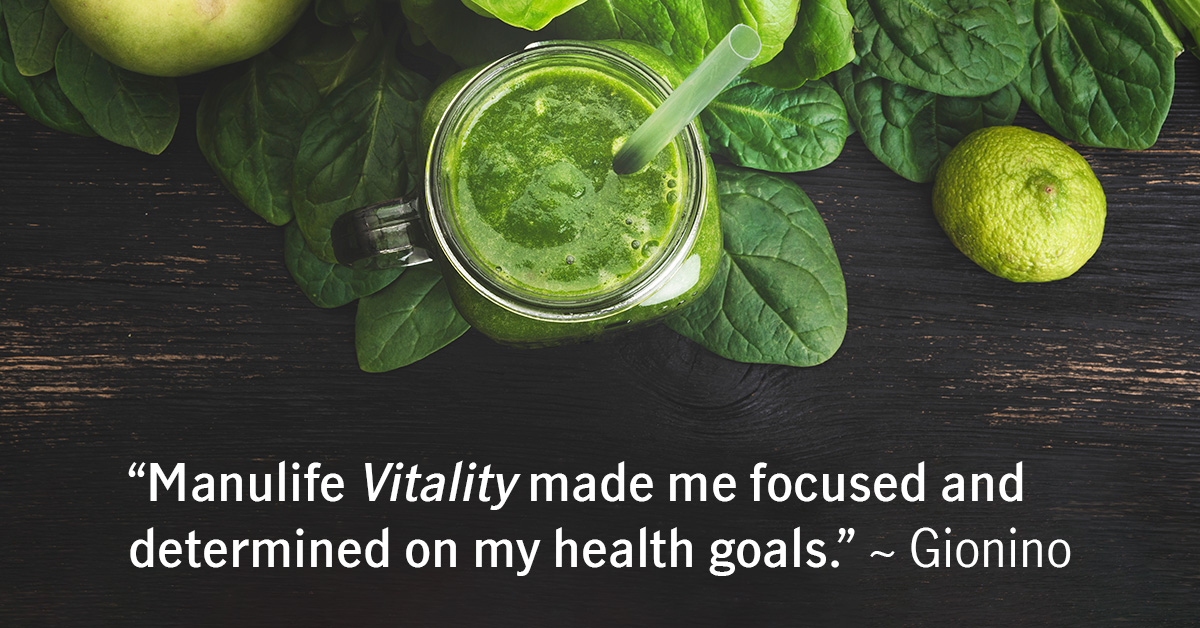 What Is Manulife Vitality?
---
The Manulife Vitality program rewards you for making healthy decisions. A personalized health and wellness program built into your insurance policy. Walking, exercising, regular checkups and more increase your overall health, reduces your insurance premiums, and gives you access to exclusive rewards.
Manulife partnered with The Vitality Group to provide this program. Together with Manulife, they are creating the world's leading science-based behavioral program for a healthier lifestyle.
Shifting the conversation from injury and mortality to health and wellbeing
How Does Manulife Vitality Work?
---
The Manulife Vitality is completely voluntary and is just $5 per month. Opting in to the program won't affect any health or dental insurance benefits, costs, or coverage on your claims. In order to add the Vitality Program you will have to start a new policy. It can't be added to a current policy.
There are four tiers in the Manulife VItality program:
Bronze – 0 Points
Silver – 3,500 Points
Gold – 7,000 Points
Platinum – 10,000 Points
Each activity you complete gets you more points. Upon submitting an application for health and dental insurance you will have the option to add Manulife Vitality to your plan. Once approved, you will receive a welcome package containing instructions on how to download the app, fill out the starting health test and how to sync your new free smart watch.
Yep, a FREE smart watch comes with the Manulife Vitality program. It will track all of your physical activity and give you points (shown in the app). Here's a quick video to summarize how Manulife Vitality works!
How To Earn Vitality Points?
---
Inside the welcome package will be directions to fill out the Vitality Health Review, a quick questionnaire about your current lifestyle. Completing this survey will give you 500 Vitality Points immediately. If you finish it within the first 90 days of signing you get an additional 1,500 Vitality Points.
Below is a table of how all additional Vitality Points can be gained:
| Grouping | Activity | Points |
| --- | --- | --- |
| Annual Health Review | Fill out Vitality Health Review (VHR) | 1500 |
| | Complete annual VHR | 500 |
| | Complete annual VHR within 90 days each policy year | 250 |
| | Annual BMI check | 125 |
| | BMI within 18.5-24.9 (Bonus) | 1000 |
| | BMI within 25-28 (Bonus) | 500 |
| | Glucose Check | 125 |
| | If fasting glucose within prescribed limits | 1000 |
| | Cholesterol check | 125 |
| | Cholesterol within prescribed limits (Bonus) | 1000 |
| | Blood pressure check | 125 |
| | Blood pressure is 120/80 or less (Bonus) | 100 |
| | Non-tobacco user | 1000 |
| Preventative Maintenance | Annual flu-shot | 200 |
| | Pap smear screening | 200 |
| | Mammogram screening | 200 |
| | Colorectal screening | 200 |
| | Dental screening | 200 |
| | Prenatal care | 1000 |
| Online Options | Interactive tools | 100 |
| | Mental well being reviews | 200 |
| | Nutrition courses | 450 |
| | Weekly goals check-in | 1040 |
| Certification | First aid training | 100 |
| | CPR training | 100 |
| Physical Activities | Light workout (approx 15-29 minutes daily) | 10 |
| | Standard workout (approx 30-44 minutes daily) | 20 |
| | Advanced workout (45+ minutes daily) | 30 |
| | Maximum points annually | 6000 |
| | Organized athletic events | 250-500 |
Manulife Vitality Insurance Premiums
---
By utilizing the Manulife Vitality Program, you have the opportunity to reduce your life insurance premiums. Calculated based on your health and lifestyle. The Manulife Vitality Points and physical activity you do on a monthly basis can decrease your premium.
The perfect insurance policy for active individuals that want to be rewarded for their healthy living. Even if you aren't active now, the Manulife Vitality Program will provide tips, tricks, and ongoing motivation to help you hit the next tier in the program.
Referring back to the 4 tiers listed at the beginning; Bronze, Silver, Gold, and Platinum. Each tier applies a new discount to your premium but it must be maintained.
A perfect example; the discount for Silver is 2%, so you need to collect 3,500 Vitality Points in the year to have that discount applied. The same methodology can be applied to Gold (5% discount requires 7,000 Vitality points), and Platinum (10% discount requires 10,000 Vitality Points).
The more Vitality Points you earn – the lower your insurance premium will be
Over time you may slow down on certain activities, in which case you may drop down to a lower tier and the slightly higher premium. Keeping in mind that the Manulife Vitality program is voluntary, your premium will never go higher than it was at the start (before subscribing to Manulife Vitality). The program is meant to give you some control on earning discounts. The base level cost before starting the program will always be the same even if you do zero activity. This creates a 'why not' scenario that is simply setup to help you live a healthier life! In the first year of adding Manulife Vitality, you will receive the Gold level premium discount as you don't have any time to earn Vitality Points. The following year will be calculated based on the points you gain.
Contact HealthQuotes today to get started with the Manulife Vitality Program
Vitality Rewards 
---
On top of the above premium discounts that you can earn, Manulife Vitality also offers exclusive rewards. Depending on how long you have been subscribed to the program and how many Vitality Points you've earned you will be eligible for various items, discounts, etc.
Here's a quick video to explain the possible rewards!
Amazon
Amazon gift cards are available as you hit each tier in the Manulife Vitality program. This offer is running from January 16, 2019 to December 31, 2020.
Silver Status – $15 Amazon Gift Card
Gold Status – $25 Amazon Gift Card
Platinum Status – $50 Amazon Gift Card
Hotels.com
Manulife Vitality can also provide discounts on your travel. When booking through Hotels.com you can get a reduced rate, once again based on your current Vitality Status. With over 400,000 hotels available worldwide and a possible 50% discount.
SIlver – 15% Discount
Gold – 25% Discount
Platinum – 50% Discount
Wearable Tech
Both the Apple Watch and the Garmin Vivofit 4 are free upon joining the Manulife Vitality program. There are also options to purchase the upgraded versions for a discount through the program if you wish to have a newer model. The watch is yours for personal use and will sync with the Vitality App and website to track your Vitality Points.
GoodLife Fitness
As a subscriber to the Manulife Vitality program you are also eligible for 55% off of a one-year membership with GoodLife Fitness or Energie Cardio fitness.
ExamOne
Lastly, Vitality members can access a free annual health assessment through ExamOne. Getting the checkup provides more Vitality points and it can be done anywhere you like!
First Year of Manulife Vitality
Download the first year of Manulife Vitality PDF here to see exactly how it works when you add this program to your health and dental insurance!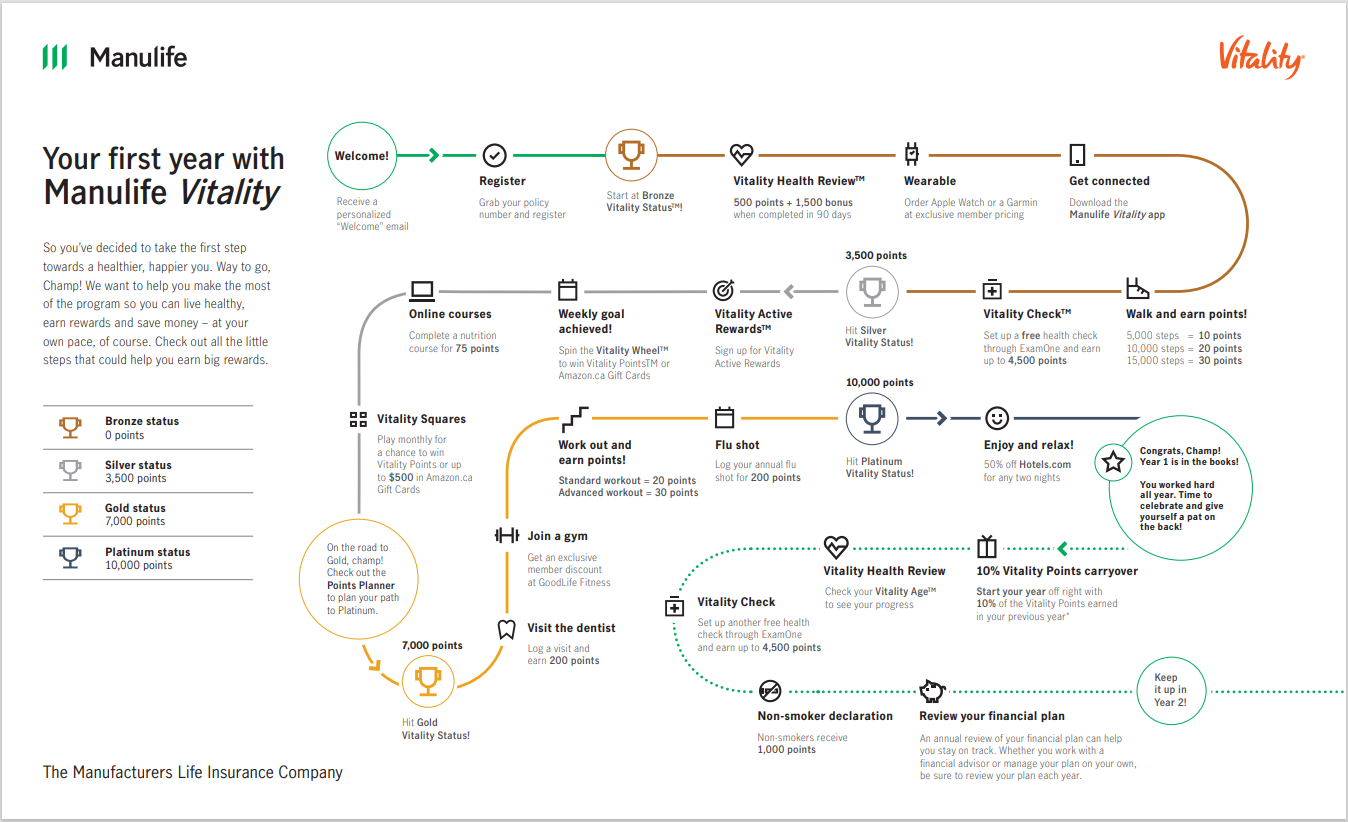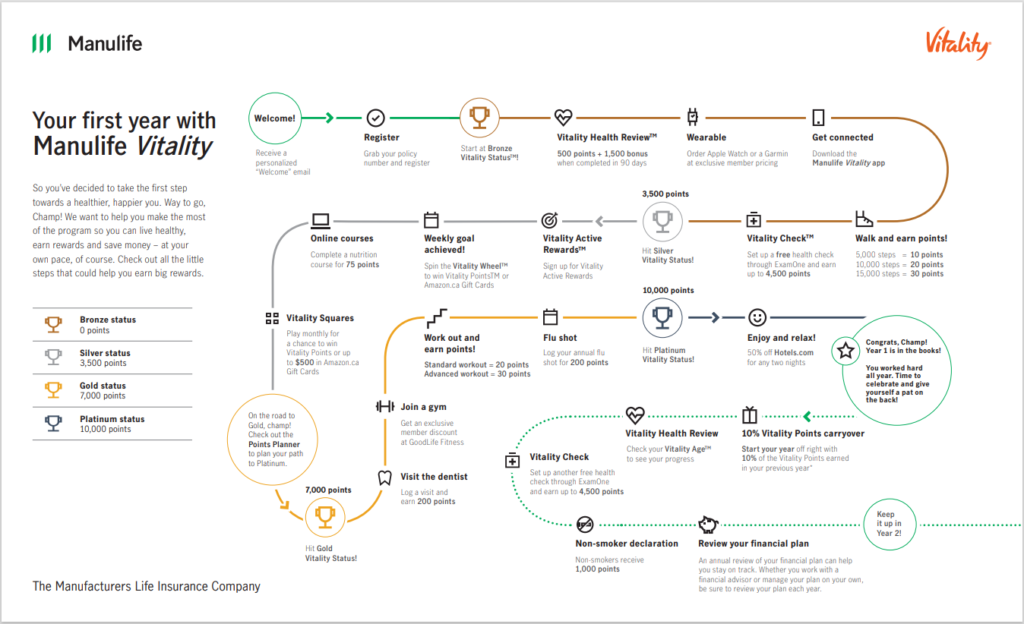 Manulife Vitality FAQ 
How do I start earning points for Manulife Vitality?
As soon as you take the Vitality Health Review (directions provided in welcome package), you will get 500 Vitality Points. If you complete this questionnaire within 90 days of signing up, you will get an additional 1,500 points.
Do I have to join Manulife Vitality?
No, the Manulife Vitality Program is completely voluntary. Although, if you do join the costs will never be higher then before you subscribed.
Can I add Manulife Vitality to my pre-existing health and dental plan?
No, unfortunately you must start a new policy in order to add Manulife Vitality.
How much does it cost to add Manulife Vitality?
It costs $5 per month, but the program allows for you to reduce your premium costs!
How do I track my workouts for Vitality Points?
You require a fitness device that can connect with the Manulife Vitality app. Luckily a free Apple Watch is provided with the Vitality program! Go to "Manage Devices and Apps" section within the mobile app to see full details.
Where can I find my Manulife Vitality status?
Go to the home screen of the Manulife Vitality app or visit My Manulife Vitality website. You will see Bronze, Silver, Gold or Platinum
Can I reduce my premium with Manulife Vitality?
Yes! As soon as you hit the next tier of Vitality Status you will be eligible for a larger discount. Bronze – 0%, Silver – 2%, Gold – 5%, Platinum – 10%.
Getting Started With Manulife Vitality
As a broker for all of the major insurance carriers, we at HealthQuotes really enjoy the focus on a better, healthier lifestyle from Manulife. We think the Manulife Vitality program is beneficial for everyone and believe it's a great addition to your individual health or group plan.
Get an instant quote for health and dental insurance here and call us to add-on the Manulife Vitality program. Call us anytime if you want more details on how you can live healthier, pay less, and get a free Apple Watch!
---