Manulife Bronze: Guaranteed Acceptance For Health and Dental Coverage
By Krista DeKuyper | April 16, 2021 | HealthQuotes Articles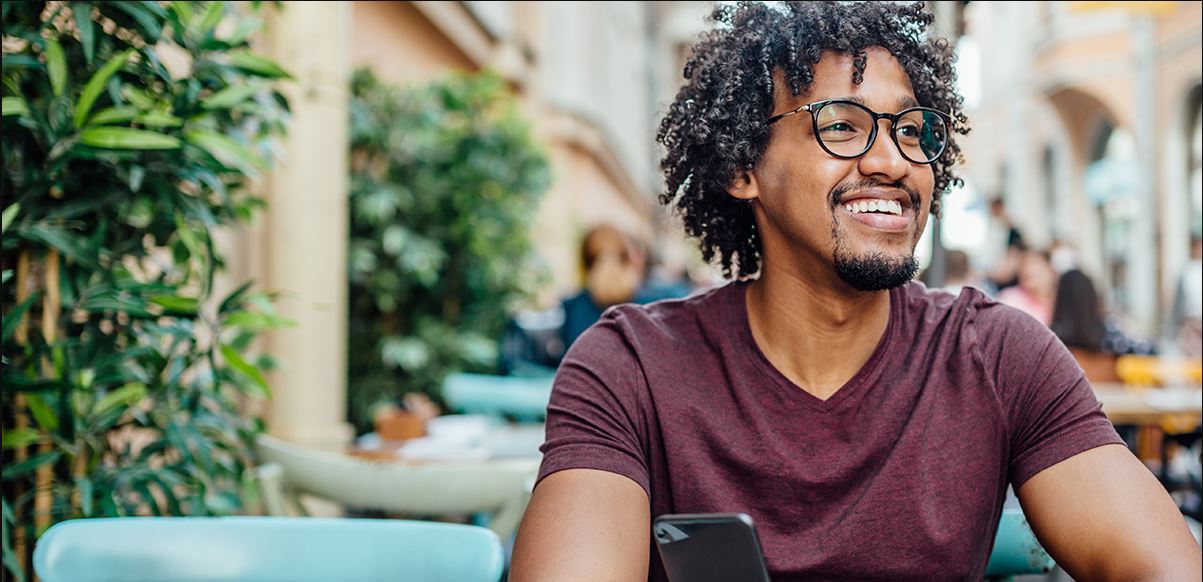 Why you want Manulife Bronze
A lot of people find themselves looking for coverage after they've retired or recently left a job. Unfortunately most people wait too long before actively browsing for different plans. Most insurance plans, like FollowMe from Manulife requires you to apply within 90 days of leaving your job or retiring. If you apply outside of that timeframe you no longer qualify for FollowMe.
Manulife Bronze is a plan offered by Manulife that allows people of any age who are leaving their company or are recently retired to apply for insurance at any time. You no longer have a time limit of when you can apply and there is no need to provide medical evidence.
The Associated Health and Dental Plans
The Manulife Bronze is a part of The Association Health and Dental Plans. The plan starts where provincial plans stop. It could help save you thousands of dollars on routine and unexpected prescription drugs, dental care, vision care and more. That's why the Association Health & Dental Plan offers 8 choices, to give you the coverage that's right for you, at the price you need.
Features of Manulife Bronze
Manulife Bronze is Guaranteed Issue
One of the benefits of the Manulife Bronze plan it's a guaranteed issue. This means it can be offered to any eligible applicant without regard to health status. There is also no medical questionnaire and evidence required. It's a stark contrast in comparison to other plans offered by Manulife that require medical assessments and questionnaires.
No Previous Coverage Required
Manulife Bronze also does not require you to have previous coverage. Unlike FollowMe, where you must apply within 90 days of the date your benefits end, you can apply to Manulife Bronze any time without time restrictions.
Extensive Benefits For No Medical Evidence
Most notably one of the best features to Manulife Bronze is the fact that you get $3000 drug yearly coverage with no medical evidence. In fact, the only thing that you'll need to input when getting a quote is your age and province. This is virtually unheard of when it comes to health and dental plans, where most plans require you to get a medical assessment.
Easy Online Direct Payment for Claims
Manulife Bronze makes it faster to get your money back from submitted claims. Direct payments would allow you to get funds deposited into your account within one to two business days, on top of the claim time which is on average 5 days. Compare that to a mailed check which could take 2-3 weeks to get to you.
Combined Paramedical Allowances
Another great feature of Manulife Bronze is that it includes a combined paramedical allowance.These services includes chiropractic services, physiotherapy, massage therapy, naturopathy, acupuncture, etc. With Manulife Bronze you get $750 per year to use towards paramedical services with $35 to use towards Chiropractic x-rays.
Manulife Health and Dental Comparison Chart
Download the comparison chart to see exactly what is covered and the amount of coverage here.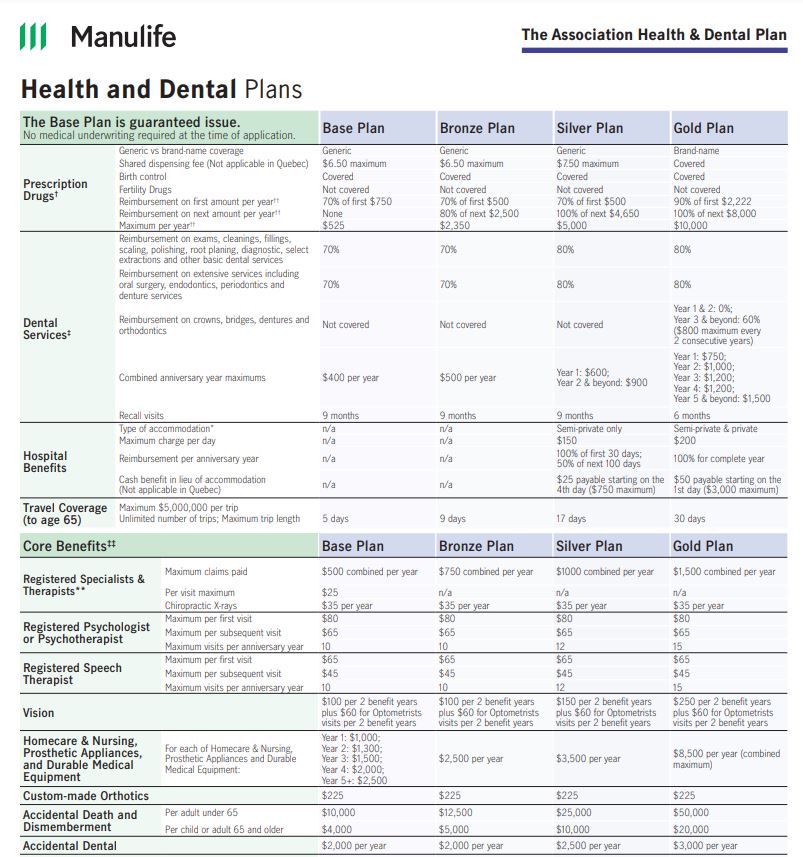 What Does Manulife Bronze Cover?
Prescription drugs
Reimbursement of dental exams, cleanings, fillings, endodontics, denture services etc
Travel Coverage – 9 days (up to age 65)
Registered therapist, specialists, psychologist, psychotherapist & speech therapist
Vision
Homecare & nursing
Akira by TELUS Health
Orthodontics
Hearing Aids
Ambulance Services
Survivor Benefit
Lifetime Maximum – $250,000
Manulife FollowMe vs. Manulife Bronze
Are you eligible for both Manulife FollowMe and Manulife Bronze? If so, you can use our quick comparison chart below to decide which plan best fits your needs. Don't forget there are prerequisites for the FollowMe plan. Visit our instant quoting tool to get the best rates.
FollowME
Bronze
Prescription
Reimbursement -80%
Shared Dispensing Fee -No max
Maximum Per year -$1250

Reimbursement -70% of first $500, 80% of next $2500
Shared Dispensing Fee -$6.50 max
Maximum Per year -$2350

Dental
Not covered
70% of basic dental services and extensive services
Hospital Benefits
Semi-Private room
Maximum Charge per day -$175
Not covered
Vision
$200 per 2 benefit years
$60 for Optometrist visits
$100 per 2 benefit years
$60 for Optometrists visits
*The FollowMe coverage numbers are pulled from the Enhanced plan
Still not sure which plan fits your needs give us a call at 1-800-474-4474 or send us an email at inquiries@healthquotes.ca to talk with one of our experts.
---