What You Need to Know About Visitors to Canada Health Insurance
By Krista DeKuyper | June 14, 2021 | HealthQuotes Articles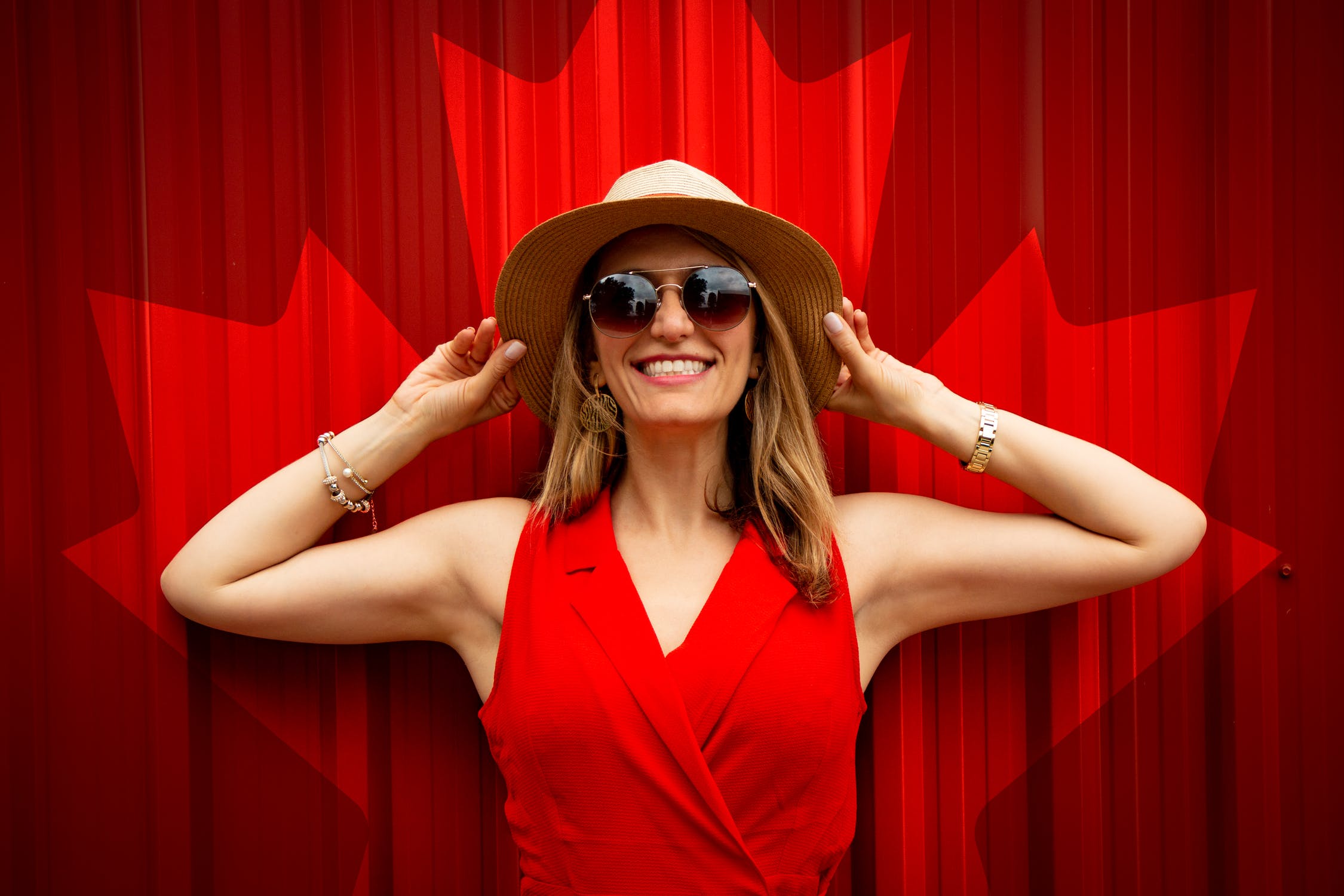 What Is Visitors to Canada Health? Insurance?
With the world slowly opening back up again we'll once again start to see an increase in visitors to Canada. So if you're a tourist or anyone who is not a citizen or permanent resident of Canada, welcome! One thing to note is that although Canada does have a free healthcare system it does not extend to visitors from other countries. So some visitors to Canada choose to have emergency medical coverage prior to beginning their trip. This is called "visitors to Canada" (VTC) insurance.
Who Should Buy VTC Health Insurance?
These types of policies are designed for anyone who isn't a citizen or permanent resident of Canada. So if you fall into these categories you are eligible for visitors to Canada insurance.
Tourist planning to come to Canada for up to a year
Foreign nationals coming to stay with their family or friends for up to a year
Recent immigrants who have moved to Canada and are awaiting coverage under a provincial health insurance plan
Foreign nationals who will be working in Canada on a temporary basis
Foreign students studying in Canada
And anyone else who is just visiting
Do All Visitors To Canada Need Health Insurance?
Yes, foreign visitors need health insurance coverage. In fact, healthcare in Canada can get very expensive without coverage with one hospital visit costing thousands of dollars. So wouldn't you rather be protected and have a policy that covers you during an unexpected incident? Even the Government of Canada recommends all visitors to purchase coverage.
So have coverage to protect you from unexpected costs due to sudden illness, accidents or other health and medical emergencies while travelling in Canada.
What Is Covered in VTC Insurance Policy?
The amount of coverage varies from policy to policy but generally you are covered for these things in visitors to Canada insurance policies:
Emergency Medical, Hospital and Ambulance
Accidental Dental
Repatriation to Residence
Return of Deceased
Follow Ups
Subsistence Allowance
Coverage for trips can last up to 365 days.
How Much Does A VTC Medical Insurance Policy Cost?
As with any other type of insurance policy the amount you pay for visitors to Canada health insurance depends on your age, any pre-existing medical conditions, how long you plan to stay in Canada, and if you have any dependents.
You can use our instant quoting tool to see exactly how much it would cost you by putting in basic information such as, marital status, age, coverage amount and coverage period.
Does Visitors to Canada Health Insurance Cover COVID-19 Costs?
It depends. Some plans do and others don't. For example, Blue Cross considers the COVID-19 pandemic to be a known and uninsurable cause since March 12, 2020 as such if you experience an interruption during your trip because of COVID-19 they don't consider it "unexpected". Manulife put out a similar statement. As of March 5, 2020 Manulife has determined that COVID-19 is considered a known event and the applicable limitations and exclusion will be applied for policy issues on or after the travel date.
Emergency medical care covers urgent care necessary to help you stabilize and recover following an accident or sudden illness. If there is a medical emergency that arises due to COVID-19 then it would be covered according to the conditions of your policy.
Popular Visitors To Canada Health Insurance Plans
Some of the most popular visitors to Canada insurance plans are
Group Medical Services (GMS),
Allianz,
Manulife Financial
and RSA.
These plans cover essentially the same things but differ in coverage amounts, deductibles, trip duration and waiting periods.
You can look through the comparison chart of these insurance providers by click here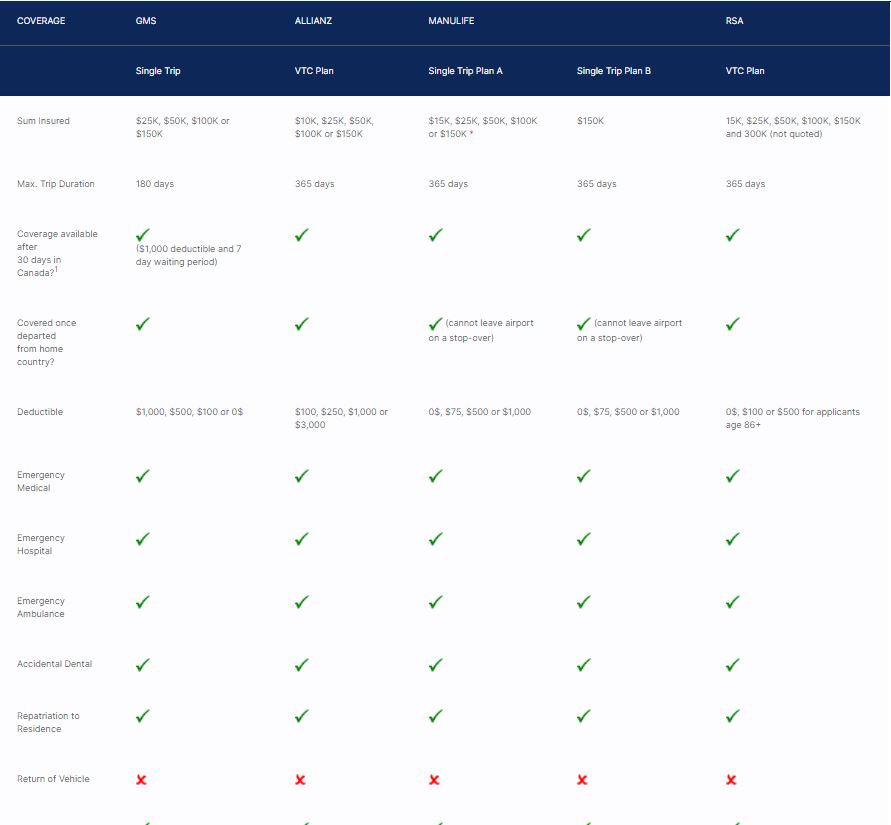 Health Insurance For Visitors with Pre-Existing Health Insurance
Most visitors to Canada insurance plans either come with or without coverage for pre-existing conditions. This is different from travel insurance plans where coverage depends on the stability of the condition. So what does this mean? Some plans don't cover costs of a pre-existing condition while others do as long as the insured person qualifies for the plan. In addition, the condition must be considered "stable" for a given amount of time in order for it to be ensured.
In summary, the plan will cover the costs if:
The applicant applies for a plan that offers pre-existing condition coverage
The pre-existing condition has been considered stable by the insurance company for a minimum amount of time
The applicant successfully answers all eligibility and medical questions
If you're still looking for more information about visitors to Canada insurance you can contact us at inquiries@healthquotes.ca or call our offices at 1-800-474-4474
---